Pimped Out Mega-Yachts
In the world of the super-rich, one of the ultimate status symbols is to own your very own private luxury yacht. Like a floating mansion, a mega-yacht or super-yacht is the biggest, most luxurious and pimped-out vessel that money can buy. Complete with pools, gyms, helicopters and more, these yachts take their billionaire owners and their guests to some of the most beautiful and exclusive places in the world, in style.
Totally pimped-out mega-yachts do not come cheap. Some cost into the hundreds of millions to build, and millions more every year just to operate! That being said, their owners certainly get what they pay for—luxury, style, status, and a selection of high-end toys that range from basketball courts to submarines and more, for the ultimate in pimped-out rides.

Lady Moura
Launched in 1990, the Lady Moura is 344 feet long and said to have cost a whopping $200 million.
Owned by the Saudi billionaire Nasser Al-Rashid, Lady Moura carries a crew of 60 and is often spotted in Monte-Carlo.
The Lady Moura is pimped out with a large pool that has a retractable roof, a 75-foot dining table that was custom-made by Viscount Linley and its very own Sikorsky S76B helicopter.
This yacht is so pimped-out; it even has its own private beach resort, which slides out from the side of the yacht right over the water and comes complete with sand, palm trees and deck chairs.
Tatoosh Yacht
Completed in 2000, 301-foot-long Tatoosh is the world's 20th-largest super-yacht.
Owned by Microsoft co-founder Paul Allen (who also owns Octopus), Tatoosh boasts a crew of 30, in addition to its many pimped-out amenities.
Spread over five decks, Tatoosh features a master suite, a saloon with a French limestone fireplace, a movie theater, and more.
The main deck features staterooms, a ladies' powder room, a lobster tank and a shaded swimming pool beneath a full overhang.
Tatoosh has some pretty big toys onboard, including not one but two helicopters, a 40-foot custom Hinckley powerboat and a 40-foot Hinckley sailboat.

Christina O
Named for Christina Onassis, the Christina O is a historic mega-yacht that has long been enjoyed by society's elite.
At a length of 325 feet and three inches, Christina O has room for 36 passengers and 34 crew members.
Spread across five decks are many luxurious amenities, including a show lounge, library, reception, central atrium, elevators, sports lounge, fitness center, massage room, beauty salon, Jacuzzi deck, open air bar, helicopter landing pad, swimming pool, outdoor canopied dance floor, a state-of-the-art kitchen serving 5-star meals, and the elegant Lapis Lounge.
The Christina O has hosted many famous celebrities and politicians over the years. In 1957, JFK met Sir Winston Churchill in the yacht's Aris Bar and Elizabeth Taylor, Frank Sinatra, John Wayne and Marilyn Monroe have all been guests aboard the Christina O.
Octopus
Built in 2003 and owned by Microsoft co-founder Paul Allen, Octopus is the third largest super-yacht in the world.
At an amazing length of 414 feet, Octopus has two helicopters on the top deck (one in the front, one in the back), a 63-foot tender, a pool on one of the upper decks and hatches that serve as docks for jet skis.
Perhaps the most pimpin' features of this yacht are its two submarines—one is a ten-person submarine that can sleep eight people for up to two weeks underwater, while the other is remote-controlled and used to study the ocean floor.


Savarona
The staggering 446-foot-long Savarona was built in 1931 for the granddaughter of German-born engineer John Roebling, designer of the famous Brooklyn Bridge. This luxurious vessel features 17 spacious suites capable of accommodating up to 34 guests 44 crew members.
Savarona's guests enjoy many ways to relax, from swimming in the large pool, chillin' out in the two Jacuzzis or heating things up in two separate saunas and steam rooms. Oh yeah, there's also a floor heated Turkish bath made from 260 tons of carved marble.
There are plenty of ways to stay in shape while onboard the Savarona, from working out in the fitness center to partaking in just about any water sport you might desire, whether you're into water-skiing, scuba-diving, windsurfing, jet-skiing or sailing.
To keep you entertained, Savarona comes equipped with a movie theater and a library of 2500 movies and computer games. Should you fall ill while at sea, don't worry. There's even a hospital onboard to take care of anyone who gets sick.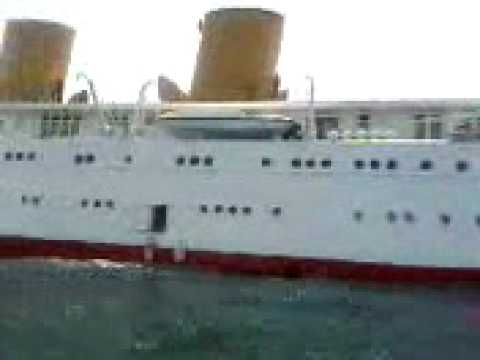 Pelorus
At a length of 377 feet, 3 inches, Pelorus is the 11th largest yacht in the world. Constructed by Lürssen, Pelorus was launched in 2003, costing an amazing $300 million to build.
With a garage full of toys and a full-time crew of up to 46 people that live on the yacht year-round, Pelorus is yet another pimped-out yacht owned by the Russian billionaire Roman Abramovich.
On top of the $300 million price tag, it costs a whopping $12 million per year just to run Pelorus.
Abramovich pimped-out Pelorus with features like bulletproof glass, a missile detection system, two helicopters and its own submarine. Pelorus is even equipped with special lights designed to ward off those pesky paparazzi.
Rising Sun
Co-owned by Larry Ellison, CEO of Oracle Corporation, and David Geffen of Geffen Records, Rising Sun carried a price tag of $200 million.
Built with the intention of surpassing Octopus in size, 453 feet long Rising Sun was built by Lürssen in Germany. Not only did Rising Sun surpass Octopus, the yacht is so big that it can't even dock at most marinas—it exceeds their size limits.
With 82 rooms on five stories, Rising Sun's living area exceeds 8,000 square meters. Rising Sun is totally pimped-out with onyx countertops, a gym, spa and sauna, Jacuzzi bathrooms and a private movie theater with giant plasma screen.
It also boasts an extensive private wine cellar, 3,300 square meters of teak-layered deck space, and a basketball court on the deck doubles as a helicopter pad.


Le Grand Bleu
Launched in 2000, Le Grand Bleu is one of the first privately-owned yachts to earn an Environmental Protection Notation from insurer Lloyd's of London.
At 370 feet long it is the fifth-largest privately-owned yacht in the world.
The yacht comes equipped with its very own sewage and wastewater treatment plants and keeps in compliance with strict nitrogen and sulfur exhaust emissions. It also has the capacity make its own water.
Formerly owned by Microsoft co-founder Paul Allen, Le Grand Bleu is now owned by Roman Abramovich, who refitted the yacht to his own specifications.
Details about the yacht's interior are scarce as a security precaution for Abramovich, because of his high profile. But as I'm sure you can guess, it's probably pretty pimpin'.