World's Craziest Roller Coasters
Roller coasters have long been a huge draw for thrill seekers everywhere. Nothing quite says "being alive" like testing fate on a speeding bullet, dipping and spinning around a steel cage of death. White knuckled, heart racing, screaming until the ride comes to an end and you laughed the words… one more time!
If you're looking for one of the wildest and craziest roller coasters rides around, then look no more. We have gathered the best of the best for thrill seeking roller coaster junkies.
1. Superman: Ride of Steel
At a height of nearly 21 stories, "Superman: Ride of Steel" is the world's top-rated coaster. This steel sit-down mega-coaster sits along the banks of the Connecticut River at Six Flags New England in Springfield, Massachusetts.
With a 221 foot drop, Superman reaches a top speed of 77 miles per hour and delivers a lot of airtime (that funny feeling of weightlessness as the coaster goes over a hill), making it a favorite of coaster enthusiasts.
There is an identical coaster at Darien Lake in New York.
Superman: Ride of Steel has won the Golden Ticket Award for "Best Steel Coaster" from Amusement Today.
In 2004, a man suffered fatal injuries when he was thrown from the ride.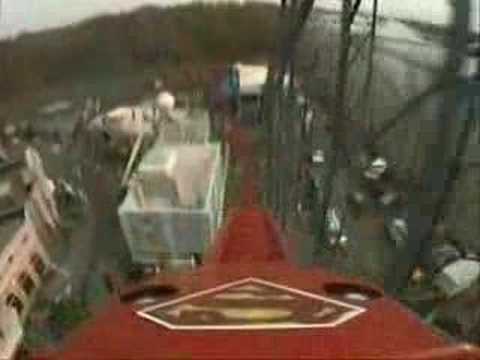 Thrill Network reviews the Ride of Steel: Link

2. Millennium Force, Cedar Point, OH
When Millennium Force opened in 2000 at Ohio's Cedar Point, it broke ten world records.
Towering at a height of 310 feet, Millennium Force is one of the tallest and fastest gigacoasters in the world, with a huge 300-foot vertical drop and a top speed of 93 miles per hour.
Manufactured by Intamin AG of Switzerland, Millennium Force cost $25 million to build and was the first gigacoaster ever constructed.
Nearly 12 million people have ridden the coaster since it opened in 2000.
A review of Millennium Force… found at…http://coasterenthusiast.com

3. Kingda Ka, Six Flags Great Adventure, Jackson Township, NJ
At Six Flags Great Adventure in Jackson Township, NJ, the tallest and fastest coaster in the world looms high over the rest of the park.
Towering at an incredible height of 456 feet (45 stories!), Kingda Ka is a strata-coaster (exceeds a height of 400 feet) and accelerates from 0-128 miles per hour in less than four seconds.
A hydraulic launch shoots the train straight-up the 456-foot tower, pauses at the top and goes straight downward into a 270-degree spiral.
Kingda Ka debuted on May 21st, 2005, becoming the fastest and tallest roller coaster in the world, surpassing the record set by Top Thrill Dragster at Cedar Point, which is 420 feet tall and goes 0-120 miles per hour in 3.5 seconds.
The ride shoots you 90 degrees into a quarter-turn, and then the train shoots straight-down vertically into a 270-degree spiral. It then goes down a valley and up a 129-foot camel hump, providing much airtime.
Short but terrifying. The ride is short, hardly 30 seconds long.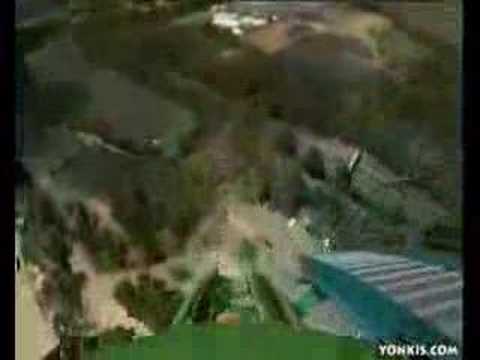 Here are reviews from ultimaterollercoaster.com and The Coaster Critic's Blog

4. Alpengeist at Busch Gardens Europe, Williamsburg, VA
Alpengeist, the "Ghost of the Alps," debuted in 1997 at Busch Gardens. At a height of 195 feet, Alpengeist is one of the world's tallest, fastest and most twisted inverted roller coasters.
It is also one of the world's tallest and fastest full-circuit coasters.
The ride was manufactured by Bollinger and Mabillard (B&M) and is themed after a runaway ski lift. With six inversions and a 170-foot drop, Alpengeist reaches speeds of 67 mph.
http://www.flickr.com/photos/daveynin/142351317/
http://www.flickr.com/photos/neuski/168082215/
Review of Alpengeist by the The Coaster Critic's Blog

5. Expedition GeForce, Holiday Park
Expedition GeForce, located at Holiday Park in Haßloch, Germany, is one of the largest coasters in Europe. Expedition Geforce is nearly 174 feet tall and reaches speeds of close to 75 miles per hour. Since its debut in 2001, Expedition Geforce has been a favorite of coaster enthusiasts.
Expedition GeForce is a mega-coaster manufactured by Intamin AG. The ride's 82-degree drop is the steepest in all of Germany. The considerable amount of airtime delivered by the ride has made it a favorite.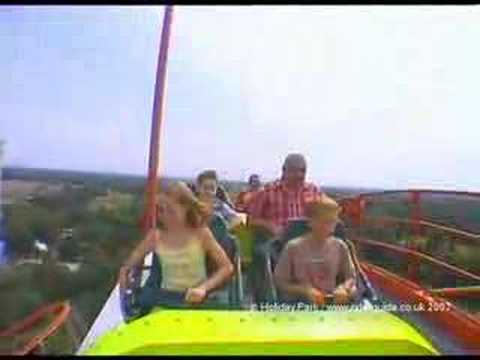 6. Pyrenees, Shima, Japan, Parque Espana-Shima Village in Japan
Pyrenees is an inverted steel coaster that opened in 1997 at Japan's Parque Espana. At a height of 147 feet and eight inches, Pyrenees riders will experience speeds of 62.1 miles per hour and six inversions.
Pyrenees is the signature ride at Japan's Parque Espana. It is regarded by many to be one of B&M's best inverted coasters. However, due to its location, the ride has not been ridden by many coaster enthusiasts.

7. Griffon, Busch Gardens Europe
Themed after the mythical "griffin," a creature that is part lion, part eagle, Griffon is the world's tallest floorless dive coaster. This B&M diving machine opened officially on May 25th, 2007 at Busch Gardens Europe in Williamsburg, VA.
At a height of 205 feet, Griffon has two inversions and hits speeds up to 71 miles-per-hour. Griffon is the world's only coaster to seat ten people across in a row. Once riders are strapped in, the floor drops out from underneath them, leaving their legs dangling.
After climbing the lift hill to the height of 205 feet, the train pauses and then goes into a 90-degree fall, 205 feet straight down!
The ride also features a 146 foot Immelmann loop, a 130-foot drop that goes at an 87-degree angle, when it then proceeds to splash into a pool of water, producing a spray of water that can be up to 45 feet high.

8. X2 Coaster (formerly known simply as X), Six Flags Magic Mountain, Valencia, and California
The X2 (formerly known just as X) Coaster at Six Flags Magic Mountain in California is a "fourth-dimension" roller coaster in which the riders sit in seats in wing-shaped trains that extend out to the side of the tracks and rotate 360 degrees head-over-heels, much like the carnival ride, the Zipper.
X was redesigned and renamed X2 for 2008. New redesigned trains and tunnels with light shows were added and it is set to reopen in the spring of 2008.
It is the world's first 4th dimension roller coaster and the last coaster to be build by Arrow Dynamics. The train's seats rotate 360 degrees backwards or forwards as the train goes along the track.
X first opened to the public on January 12, 2002. It reopened after being repainted, new trains were added, new special effects added—reopened April 1st, 2008.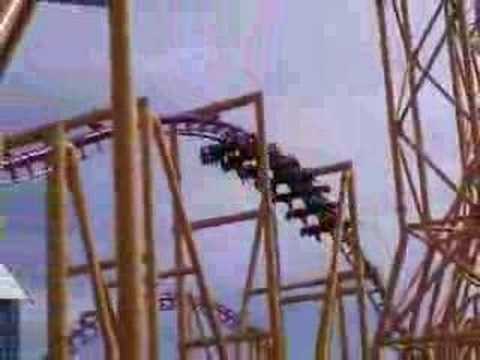 9. Colossus at Thorpe Park, Chertsey, England
Located at Thorpe Park in England, Colossus was the first and only coaster to have ten inversions. Manufactured by Intamin AG, Colossus is 99 feet tall and reaches speeds of 45 miles per hour.
It is the first coaster in the world to have ten inversions. There is an exact replica of the ride at Chimelong Paradise in Guangzhou, China.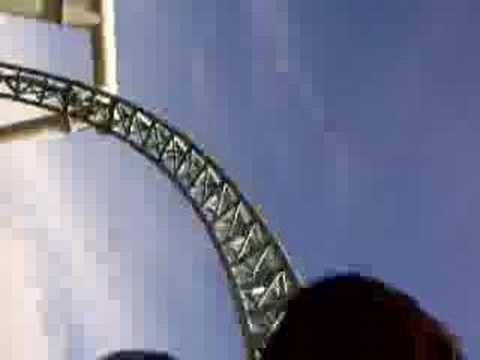 Reviewed by Theme Park Insider

10. Goliath at Six Flags over Georgia
Goliath at Six Flags over Georgia is a 200 foot high steel sit-down coaster with a 174 foot drop and speed of 70 miles per hour. Goliath is a hyper coaster made by B&M. It is spread over an 8.5 acre area of the park.
The ride is located in the USA section of the park, which was renovated during the early 90s to give it a 50s America sort of theme.
Goliath was named #9 in Amusement Today's Golden Ticket Awards list of the top 50 steel roller coasters for 2006, which was the year that it opened. In 2007 it moved up a spot to #8.